Welcome to Surf For All!
Surf For All is a charity based in Long Beach, NY, dedicated to assisting people in getting people into the ocean, on to surf boards to assist in maximizing their potential. We believe the ocean is a source of healing and spiritual strength that should be accessible to all. We are a volunteer driven organization with no paid employees.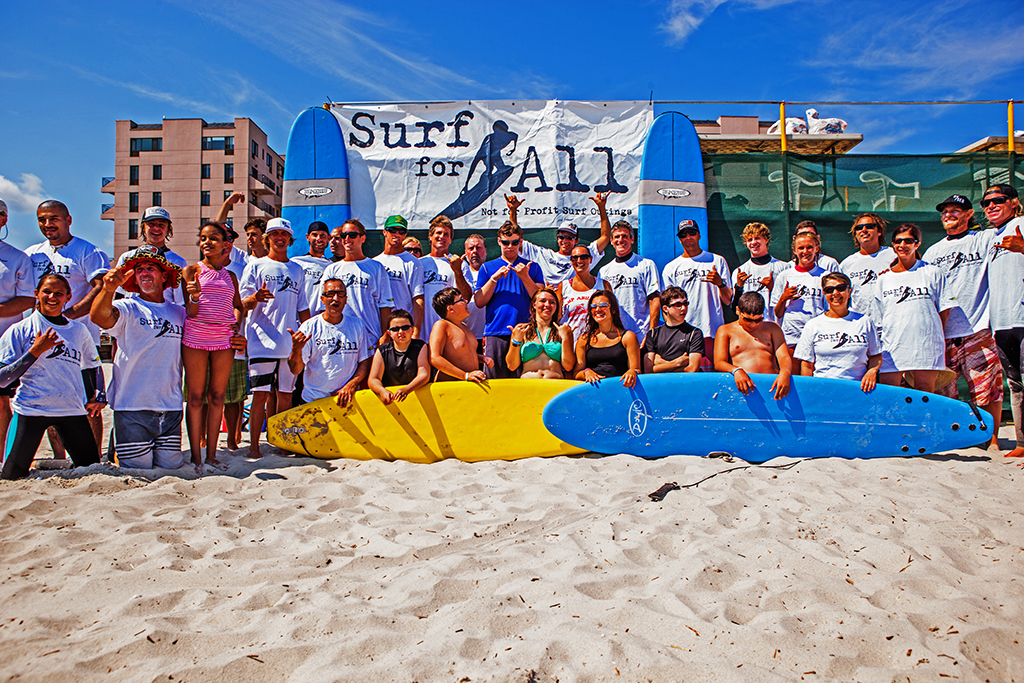 WHO WE ARE
Surf For All's roots go back to 2002 with the development of a surf program for developmentally disabled teenagers. Over the years we expanded our outings to cover a broader spectrum of disabilities–from autism, cerebral palsy, visual impairment and others. We work closely with the Long Beach School District and provide free weekly lessons for middle school students during the summer special education program. We have also expanded beyond teenagers and work closely with Wounded Warriors, providing lessons and support for our military heroes. We also provide programs for the economically disadvantaged. Our work has been featured on network television, major newspapers, radio, social media and elsewhere. Our message is always the same: We get more enjoyment out of the program than the students. Some of our students cannot walk, cannot speak, cannot see but they demonstrate shared humanity because when they get in the water they show that they know how to smile.
FOUNDERS
There are three board members of Surf For All. We have full 501(c)3 status from the IRS and are approved as a tax exempt charity.
Jim set up the first New York outing for disabled children in 2002 with his friend, internationally known surfer and autism expert Izzy Paskowitz. Jim's son Dan, has profound autism. Dan was one of the first students in the water. Jim is a consultant who provides security and anti-terrorism advice for clients here and abroad. He is a former journalist and winner of a Pulitzer Prize for Investigative Reporting. In the winter he is an on-ice coach for a hockey team of young adults with autism.
Cliff
 has a passion for working with students with disabilities and he is a Co-Founder of Surf For All (non-profit organization) which helps individuals with special needs learn how to surf.
Cliff is co-founder and president of Skudin Surf Inc., as well as a nationally-ranked lifeguard and experienced water man Cliff is a certified New York State Teacher and holds a Masters degree in Physical Education. Cliff was Nominated in the 2012 Billibong XXL monster paddle awards a 2012 and 2013 Big Wave World Tour Nelscott reef Oregon invitee, has surfed the biggest and heaviest surf spots on the planet such as Mavericks, Waimea Bay, Outer Reefs Hawaii, Nelscott Reef, Todos Santos, Puerto Escondido, and Central California, and East Coast Hurricane Chasing and pioneered big wave surf spots on the east coast with his brother Will.
Will is an internationally ranked big wave surfer who has competed in some of the most significant tournaments around the globe. Along with his brother, Cliff, Will has been featured as "Hurricane Chasers" who race up and down the eastern seaboard to hit the waves when hurricanes hit land. Will's exploits are all over YouTube. Will runs a program that combines surfing and the arts including video, music, painting and other expressions of creativity.
VOLUNTEERS
Our volunteers are all certified surf instructors and/or licensed New York State lifeguards. They range from students to teachers, from businessmen to politicians, moms and dads and at least one grandparent. We have been fortunate to have gotten some of the biggest names in international surfing involved. It's quite a rush for a kid to get a lesson then go home and Google the name of his instructor and see that the teacher is a star. It's like playing catch with Derek Jeter.